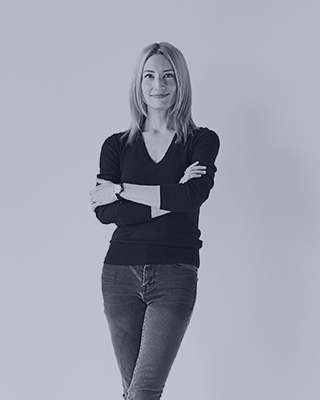 Where are you from and where you do you currently reside?

Laura Naples: I currently reside in the town where we grew up – Hudson, OH. Kristen Giorgi: I am from Hudson, OH – but currently reside in Atlanta, GA.

What are the challenges or unique creative opportunities that arise from working in different physical locations so far apart?

LN: We are each able to bring a completely unique perspective to our collective work because of the physical distance between us. It is interesting to see, based on our creative output, how each of us is learning in our thoughts and processes, how they differ and where they overlap (as they often do!). With that said, we both dream of the day we can work side-by-side in a shared studio, which would allow us to collaborate simultaneously. For now, we connect through our phones! We constantly send each other images of pieces in process, and Instagram is a big sharing tool for us.
KG: Totally agree with Laura! Being apart is almost an advantage. We are inspired by different things but it is also so neat to realize how parallel our processes can be. Sometimes we will create pieces in the same color pallette, but we had never discussed it prior.
Many artists create their work using memories and elements of their personal history for inspiration. As sisters, how has your upbringing influenced your collaborative work?

LN: Our mom Sandy always brought us to museums, art shows and fairs growing up. Her natural eye taught us to recognize special craft and nuance, not only in art but also fashion, music and design – and we absorbed it all and made it our own. With this shared background as a baseline, we developed our aesthetic in tandem, to the point where we tend to innately understand what is going on inside the other's head. Twins sometimes work that way, and even though we're five years apart, that sort of mind-reading often applies to us!
Kandescent III
KG: Our mother has had a paramount role in our influences creatively, but I have to say that much of mine has come from Laura. Even though our age difference feels miniscule now, when we were young she was the one I looked up to for everything. I wanted to do everything she did, including being interested and involved in the arts. I may not have picked up a paintbrush had I not seen her do it first!
Kraze
Being apart is almost an advantage. — Kristen Giorgi
What necessities do you both require when making your art (radio, specific paintbrushes)?

LN: We're both reading The Creative Habit by Twyla Tharp. She encourages creatives to develop a simple ritual to get in the mindset to work. Lately, I have been starting by turning on a Pandora station (lately, The Naked and Famous, Heart, and Glass Animals), and drinking a glass of water. In actual supplies, I require brushes of all makes and sizes, but I keep a few out that I like to look at and use – they are super inexpensive "Studio 71" brand from a craft store, but are really pretty matte black with gold tips. I also have inspiration boards nearby to corral collected imagery – right now they include Taschen's Paris: Portrait of a City book cover, a watercolor by my 6-year old daughter, a drawing by my 3-year old son of himself as an octopus, a NASA satellite image of the Dead Sea, interiors by Jean-Louis Deniot and my friend Colleen Locke, a Delpozo gown, and a stackable serving dish set that I'm coveting by Saturday. I try to think the day before about what I want to work on the following day and do a little bit of planning, so I can dive right in after my "ritual" begins.
KG: I start each day with getting inspired by something whether its skimming through my pinterest feed of goregous home decor or browing style.com to view the latest couture. This sort of jump starts my creativity. Music is a MUST. As for supplies, I tend to ruin brushes frequently by leaving them out, so I use the same ones over and over. I also tend to grab odd things around me to use for texture. It's sort of a mad-scientist situation happening most days. There's not much continuity in my process which keeps things lively.
Is there something people would be surprised to discover about you?

LN: I secretly fantasize about performing in a musical! The combination of singing and dancing makes me so happy. I would love to do Ann-Margaret's role in the stage version of Bye Bye Birdie!
KG: I'm obsessed with rap music. Drake, Jay-Z…love it all. It's what I listen to while I'm painting. I somehow find it so relaxing.